YOUR LOCAL CAR MECHANICS
Never turn customers away
Help you understand how your car works
Drive you home or loan a car
opening hours
Wednesday:
Thursday:
Friday:
Saturday:
Sunday-Monday-Tuesday:
8:00am – 6:00pm
8:00am – 6:00pm
8:00am – 6:00pm
8:00am – 5:00pm
Closed
You are in control of climate in your car cabin, not the weather
It's your unique power - to control the weather in your car.
The comfortable temperature inside the car gives a more pleasant driving experience. It also has practical benefits, such as reducing the risk of driver fatigue or distraction caused by extreme temperatures. It also helps in the winter as a dehumidifier and allows the windows to defrost faster, that is why all vehicles are mandated to have A/C in North America.
Stay safe and make your passengers comfortable by maintaining your car's air conditioner annually at GreatYear Automotive.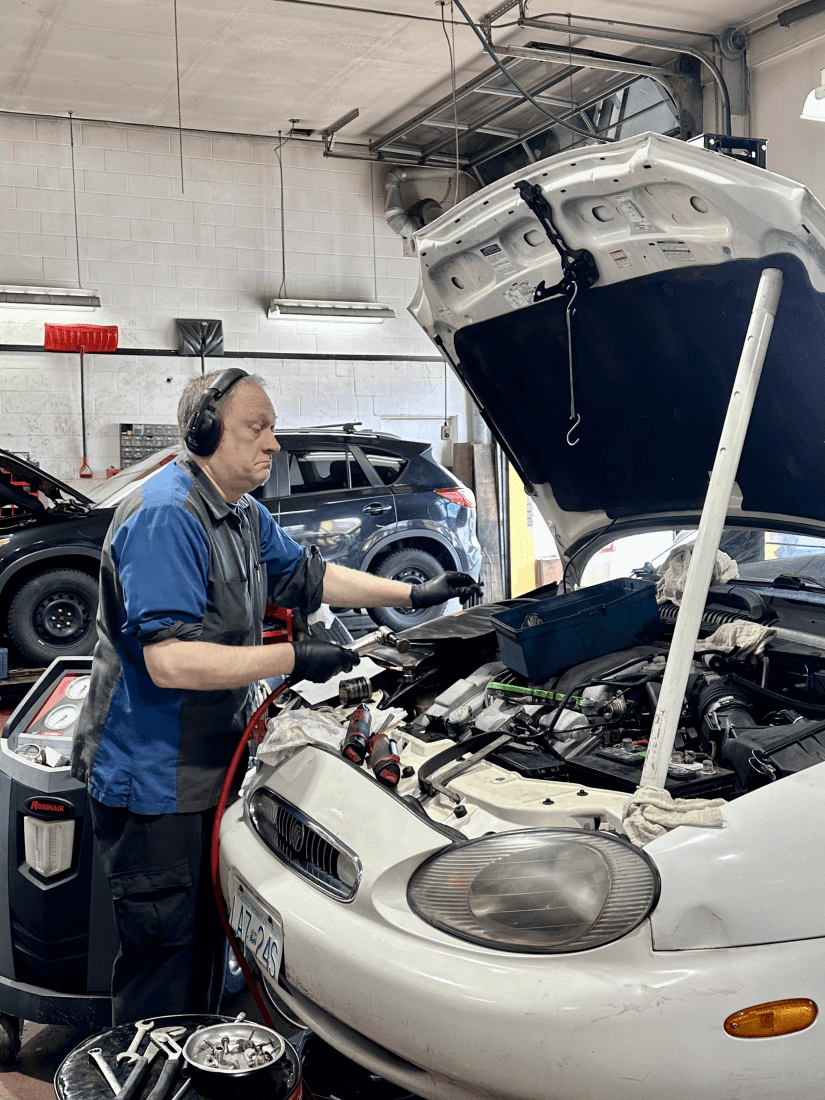 Questions you may have for us:
Consult with a qualified technician for diagnosis and repair of any car air conditioning issues.
Typically, the cost of repairing a car air conditioner in New Westminster can range from $250 to $1,000 or more. Keep in mind that this is just an estimated cost, and prices can vary depending on the severity of the repair needed.
Repairing a car`s air conditioning system can be a complex and potentially a hazardous task. GreatYear Automotive does not recommend that you attempt to repair the system yourself, not only for your own safety, but environmental issues from the release of harmful from emissions from the air conditioning units of today's vehicles.
Have your car`s air conditioning system serviced every two years to check for leaks, test the compressor, and replace the refrigerant if necessary. Bring your vehicle to GreatYear Automotive if you notice any issues with your A/C system.
Some repairs can be completed quickly, while others may take several hours or even a full day to complete. The time it takes to fix a car`s air conditioning system depends on the specific issue and the extent of the damage or repairs needed.
What we look for while working on your car AC system?
GreatYear Automotive car mechanics typically inspect, test, and clean various components of car AC to ensure the system is working efficiently.
Common components checked during the service include the compressor, evaporator, condenser, air filters, belts, and hoses. We check the refrigerant levels and potential leaks.
Car air conditioning recharge cost in New Westminster and Lower Mainland
The cost of an air conditioning recharge in New Westminster can range from $250 to $550 on average or more.
It depends on the type of vehicle, the age of the air conditioning system, and existing problems.
The prices can vary around Lower Mainland and will give you an estimate on your vehicle's needs after a A/C System Diagnostic for $79.98
Types of vehicles GreatYear services
We service older and newer cars.
Some newer vehicles may use Eco-friendly refrigerants, which require specialized equipment and expertise to service properly.
Our customers drive smaller cars and larger trucks made by Honda, Mercedes, BMW, Ford, and other brands.
There is no car make or model we cannot provide AC auto care.
GreatYear customers get excellent car air conditioning system services



Trust your local car AC mechanics
Reach out to us via chat or book an appointment.